¡¡
---

2.5 Million Koreans in America Today


There are currently around 2.5 million residents in America and 700,000 visitors (inc. students and short-term residents) residing in the U.S. annually. 80% of the residents are first generation immigrants who hold U.S. citizenship or green card. Koreans live in all parts of the U.S., with a large population in the west coast.
¡¡
¡¡
68% of all Koreans in the U.S. use Naver daily.
Residents:
2.5 M

There are approximately 2.5 million Koreans or Korean-Americans in the U.S. A significant percentage of them live in a Korean speaking community.
¡¡
Monthly UV:
1.7 M

1.7 million Korean-Americans in U.S. visit Naver every month..
¡¡
Daily PV:
15 M

Naver's 15 million page views (PVs) out of all Naver PVs are generated from the U.S. daily.

¡¡
Naver is the Most Popular Portal Amongst Koreans in U.S.
¡¡

Out of Korean websites frequented by Koreans in U.S., Naver has the most Unique Visitors.
¡¡
¡¡
PV of Korean Language Websites in U.S.

(Daily statistics from April 2011) (Source : NHN & Google Double-click)
¡¡
¡¡
Most Koreans in the U.S. of All Age Groups Use Naver
¡¡

In the U.S., Naver is used evenly by Koreans in all age-groups, from teens to the fifties. 66% of the users are in their 20s and 30s, which shows that the younger generation, who are familiar with the media and have the actual economic power, are Naver¡¯s main users.

¡¡
The Age of Naver Users in the U.S.


¡¡
Gender of Naver Users in the U.S.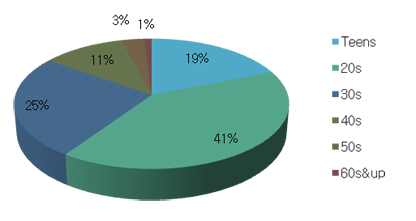 ¡¡
¡¡
Koreans in the U.S. Mainly Use the Main Page, News, Community and Search Services
¡¡

The main page, news, café, blogs and Unified Search account for approximately 80% of the services used by Naver users in the U.S. These services are closely connected to the users¡¯ actual lives, which proves that Naver users are actively using Naver as a tool in their everyday lives.
¡¡
¡¡
Services Use Compared to the Total PV(%)

¡¡
¡¡
A Large Percentage of Keywords are Related to Consumption
¡¡

A large percentage of keywords from the U.S. are closely related to consumer activities in real life. ¡®Education, health, travel, automobile¡¯ are just a few of the most sought keywords. As potential buyers, Naver users obtain the information they seek through Naver.
¡¡